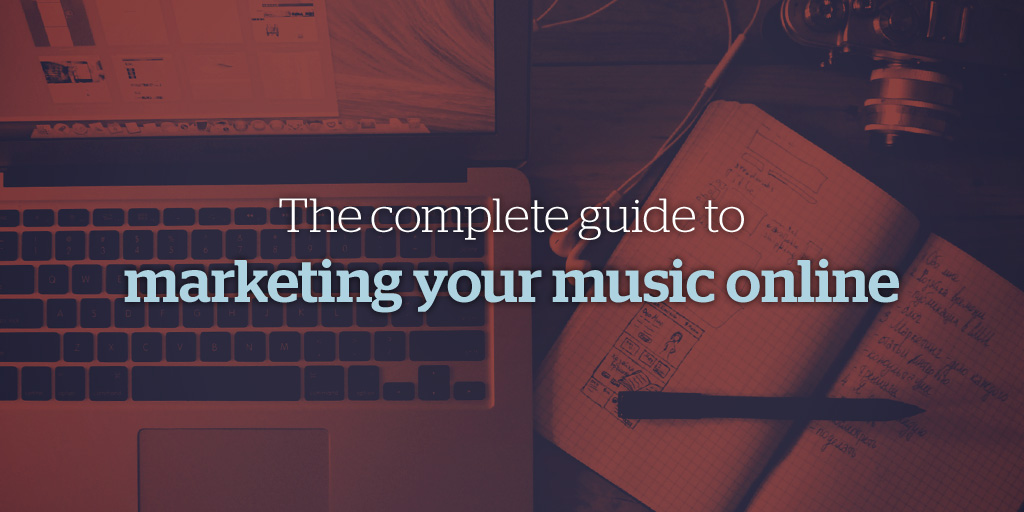 This post originally appeared on the Bandzoogle Blog. 
by Lisa Occhino 
These days, there are so many different ways to market your music online that it's tough to even know where to start. What's worth your time, energy, and money? What isn't? How many social media platforms do you need to be active on? Do email lists still matter? 
This comprehensive guide will outline your options and help you determine the best approach to each aspect of your music marketing. 
Online music marketing = fan engagement 
Online music marketing revolves around engaging with your fans. Your three main goals for fan interaction should be: 1) to keep them aware of you, 2) to solidify the relationship, and 3) to create superfans who will support you throughout your career. 
Why are superfans so important? Well, they're the fans you can count on to come to all of your shows (and bring their friends), buy just about everything you offer, and promote you through word of mouth. 
According to a Nielsen study, people are 54% more likely to make a purchase based off a positive recommendation from a friend – which means you're going to want as much word-of-mouth marketing from superfans as you can get! 
Before we dive into how to market your music online, let's quickly recap the three pillars of fan engagement: 
Consistency. In order to truly rise above the noise of the internet, you have to be consistent in your music marketing, in terms of both quantity and quality. 
Authenticity. Communication with your fans must come from you, the artist, in your voice. You want them to feel like they're along for the ride on your music career journey. 
Sustainability. There's no shortcut or quick fix for building up a solid fanbase – you simply have to show up and do the work every day to sustain fan engagement. 
4 essential tools to market your music online 
When you use all the online marketing tools available to you as part of a cohesive strategy, you'll create more awareness about you and your music. 
1. Website 
Your website is where you ultimately want people to land when they find out about your music. 
It should act as the hub for everything you do online, while your social media platforms are the spokes – the places where you share interesting content and link back to your website as often as possible. 
There are a few key reasons why it's so crucial to have your own website: 
You own the web address. Your fans will always be able to find you because that corner of the internet is guaranteed to be in your control. 
You control the experience. You can design it however you want, and there aren't any of the ads or distractions that come with social media platforms. 
You own the data. Unlike fans on social media pages, you own your website's data. That means you have access to important information about how fans got to your website, where they're from, what they click on, and more. 
You can sell direct-to-fan. With no middle man, that means more money in your pocket (commission-free with Bandzoogle), and a better experience for your fans. Plus, customers can join your mailing list at the same time so you can keep in touch with them. 
[The Complete Guide to Selling Your Music Online] 
2. Blogging 
Maintaining a blog is a great way to drive fans to your website, and it can help a lot with search engine optimization – meaning you'll rank higher in search results when people Google you. 
[Free eBook] A Complete Guide to SEO for Musicians
Blogging also provides a source of consistent, quality content to share on social media. Plus, it shows that your career is active, and over time, it helps create a stronger connection to your fans. 
Not sure what to blog about? Here are 10 ideas to get you started: 
Preview an upcoming show 
Review a recent show 
Tour stories 
Rehearsal stories 
Studio stories 
New gear 
Other bands in your genre 
Stories from your personal life (if you're comfortable with it) 
Your pets 
Your hobbies and passions outside of music 
Be sure to include lots of photos and videos in your blog posts to make it interactive and engaging for your fans! 
3. Social media 
Don't just think of social media as a way to sell your music; more than anything else, it should be a conversation. Think of it as a tool to interact with fans and share your journey as an artist. 
[11 Killer Content Ideas for Musicians to Get More Fans on Social Media] 
You don't need to be active on every single platform out there (although it's a good idea to at least reserve your artist name on each major platform). It's better to maintain a consistent presence on just a couple of platforms, rather than a scattered presence on all of them. 
Focus on the platforms that you enjoy, and the ones where your fans are actively engaging with you (or the ones where you have the best chance of finding potential new fans). For example, you may love using Pinterest, but if none of your fans or potential fans are on it, it's not the best use of your time as a music marketing tool. 
You can use an application like Hootsuite, Tweetdeck, or Buffer to schedule out your social media posts in advance and save a ton of time. Just be careful about scheduling out too many posts if you're not available to respond to comments or messages. 
As a general rule, when you set up a new account on any platform, select a username that's consistent with all your other profiles so that people know how to find you. Be sure to fill out your bio section, upload an eye-catching photo, and include a link to your website, too. 
If you want to try running social media ads, we'd recommend setting a realistic goal and a small budget initially, checking out the analytics after a few days, and then putting more budget into what's actually working so that you don't waste money on ads that aren't getting you any results. 
We're not going to discuss every social media platform in this article, but instead, we'll focus on the four biggest ones: Facebook, Instagram, Twitter, and YouTube. 
Facebook 
In terms of active users, Facebook is by far the biggest social media platform out there, so you can be certain that your fans are on it. 
Keep your personal and professional life separate by creating an official Facebook Page for your band. Through your Page, you can get detailed analytics about where your fans are from, what kind of content works best, and who is the most engaged. 
Getting Facebook fans starts with with great, shareable content, such as your music, videos, photos, or even Facebook Live streams. Due to Facebook's algorithms, however, only a small percentage of fans will see your posts organically. 
Always respond to fans' questions and click "like" on comments, because that actually helps your posts get seen by more people. And for important announcements, you'll want to pay a little money to boost the posts so that more people see them. 
You can also create highly targeted ads by region, interest, and demographic to promote your Page. It might take a little trial and error, but once you figure out who your ideal target audience is, you'll find that you can run ads very inexpensively and get the results you're looking for. 
[Social media marketing for musicians: How to get more fans with Facebook] 
Instagram 
Instagram is the second-largest social media platform, and it's all about the visuals here. Photos are most common, of course, but videos are great for engagement as well. 
In addition to consistently sharing great content with relevant hashtags a couple of times a day, you can grow your Instagram following by simply being genuine, commenting a lot on other people's photos, adding your Instagram feed to your website, and maintaining your Instagram Story. 
Check out this post for more detailed tips on getting Instagram followers, as well as the best kind of visual content for musicians to share. 
Twitter 
Because Twitter is all about real time, you can post more often than you would on Facebook. Typically, up to 6-8 tweets per day is fine if the majority of your posts are brand-building; just be mindful of how you space out your self-promotional posts in between so that it's not overwhelming. 
As with any social media platform, the best way to get Twitter followers is to have great content that people want to engage with. And of course, use lots of hashtags! It's a great way to connect and have conversations with people who don't already follow you. 
Using Twitter's search function, you can find people who are talking about you or your music, or search for fans of similar artists. From there, you can start conversations with them or add them to a Twitter list. They'll get notified, and will likely check out your profile. 
[Social Media Marketing for Musicians: How to Get More Fans on Twitter] 
YouTube 
People tend to go to YouTube first to find songs they're looking for. With over 3 billion searches per month, it's the second-largest online search engine! 
Your songs might already be on there, but it's best to upload your songs to your own official channel so that you can monetize them (i.e., earning money from your videos by allowing ads to be displayed on them). And if other people are using any of your music in their videos, you can use a service like TuneCore, Audiam, or CD Baby to automatically identify and monetize it. 
To build up your following on YouTube, you need to produce quality videos and upload them on a consistent schedule. There are so many kinds of videos that musicians can upload, but a few common ones include: music videos, lyric videos, cover songs, live performances, big announcements, and interviews. 
To help people find you organically on YouTube, make sure you've got all your bases covered: write effective video titles and detailed descriptions, add relevant tags to all your videos, and enable channel recommendations. You'll also want to organize similar types of videos into playlists to build watch time. 
[Social Media Marketing for Musicians: How to get More Fans on YouTube] 
4. Email list 
"If you own the data, the money will always follow." – Derek Webb (Artist/NoiseTrade Founder) 
It may sound old school, but email is arguably still the most important tool at your disposal for marketing your music. 
The top reasons to have an email list are: 
You own it. You can download the database and take it with you, regardless of which service you're using. 
It's the ultimate permission marketing. Fans sign up because they want to hear from you! 
It's the most effective way to sell your music, tickets, and merch. According to a McKinsey & Company study, email marketing is 40 times as effective as Facebook and Twitter, combined. 
It's the best way to stay in touch with your fans long-term. Social media platforms will come and go, but you can count on email being around for the foreseeable future. 
One of the best ways to build up your email list is by making it your primary call-to-action on your website. Put the signup box in a very obvious location, and specifically direct people's attention to it. You can even offer an incentive like a free song download or an exclusive piece of content to sweeten the deal. 
With each email newsletter you send, it's best to focus on just one objective that you're trying to achieve for the greatest chances of success. Regularly analyze data like the open rate and the click rate for each email, and experiment with tweaks to your new campaigns – for instance, a more intriguing subject line or a new email format – to keep your fans engaged. 
As far as how often you should be sending out newsletters, there's no hard and fast rule – but whatever frequency you choose, keep it consistent. If you're new to email marketing, it's better to start with less frequent emails until you get comfortable with it. Try sending out a monthly newsletter to test the waters while you figure out what works for your fanbase and what doesn't. 
[The Complete Guide to Email Marketing for Musicians] 
This is a lot of information to take in, but if you're feeling overwhelmed, just remember that every kind of music marketing always comes back to the three pillars of fan engagement: consistency, authenticity, and sustainability. With your website as the hub, the rest of your online presence as the spokes, and a regular analysis of your fan data, you're well on your way to an effective, cohesive musician marketing strategy. 
Ready to put this into action and create a full marketing plan for your music? Check out 5 Steps to Creating an Effective Music Marketing Plan 
Lisa Occhino is the founder of SongwriterLink, a free songwriting collaboration website that matches you up with exactly the kind of co-writers you're looking for. She's also a pianist, award-winning songwriter, and graduate of Berklee College of Music.