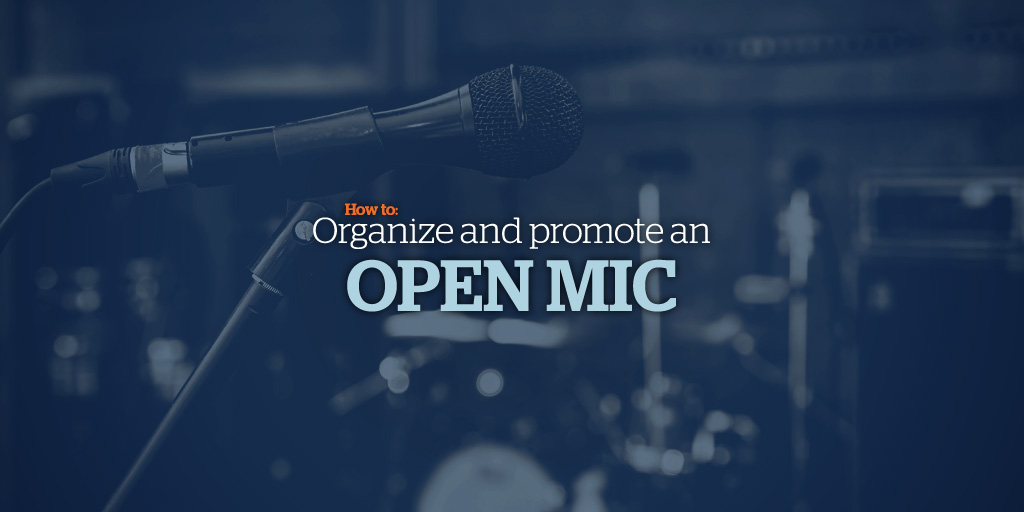 This post was written by Joy Ike ​and originally appeared on the Bandzoogle Blog.​
Open Mic is about 3 things - Location, Hospitality, and Camaraderie. Whether or not you agree with that statement, it's hard to deny the fact that musicians want to go to open mic so they can rub shoulders with other like-minded and talented artists, plug into their local music community, and be where the action is.
With that said, this post is for the person hoping to run and host their own open mic...or the person who wants to make their Open Mic better. Maybe you don't realize this, but a lot goes into your job - especially if you want to do it well. Read the following tips for some Open Mic best practices for hosts and coordinators!
1. Pick a venue that cares just as much as you do
This is key. A coffee shop, restaurant, or space that cares about the local music scene will not only make more money off of patrons, but they will help your open mic become better. They will support you by offering drink specials and discounts to attendees as incentives to come out; and in turn visitors will become regulars.
A venue that makes Open Mic the focus of the night will become a destination spot for people looking for something to do on an off night. Good turnouts are all about the partnership of venues and hosts.
2. Create a Facebook page for your open mic
Your physical meeting spot is the venue. Now you need a virtual one. Yeah, Facebook pages are highly overrated, but musicians live and breath social media because they have to. So having a central online meeting spot where people can check for updates is essential.
Use this Page to announce when Open Mic is canceled, or if there is a special guest host on any particular week. It's also a way to keep people engaged with the Open Mic so that when Tuesday comes (or whatever day you pick) they already know where they're gonna be at 8pm.
3. Don't fill up the sign-up sheet before the night starts
I once watched an Open Mic run itself into the ground by filling up the sign-up list before the night even started. If you are the host, and you happen to know 80% of regular attendees, make a rule that they have to show up 30 minutes in advance (like everyone else) to claim a spot on the list. Don't let them text you, inbox you, or Facebook you to claim a spot the night before.
This particular Open Mic got so accustomed to filling the list up, that newbies stopped coming because they could never get on the list. Some had even waited outside the venue for an hour, but by the time doors opened the list was already full. That open mic quickly earned a bad reputation.
4. Pick a Feature
The typical open mic gives each artist 2 or 3 songs-worth of stage time. Pick a weekly featured artist and give them one or two extra tunes. Touring musicians especially love this. We often have off-nights that we just want to fill as we make our way across the map. Having a weekly feature can sometimes annoy the average attendee, but it can also spruce up the night and introduce the local music community to an artist they never would have heard otherwise.
In most cases, this artist is uber talented and more experienced because they're touring (not always the case). What's more, playing an open mic is a great way for a touring artist to meet fellow musicians they can split shows with when they pass through town in the future.
5. Make it Affordable
I personally don't think an open mic should be any more than $5. Free is even better because it encourages attendees to buy drinks and food. If you plan to charge, just know that people associate money with quality. Is the quality of your open mic worth how much you're charging? It's easier to sell a free event on a weeknight - especially if some people work late hours and can only stop in briefly before their day ends. I'm not saying you shouldn't charge, I'm just saying it encourages a higher standard. That can actually be a good thing. Talk it over with the venue.
Alternatively we suggest passing a hat and giving the collected money to the touring artists. It's a roundabout way of helping the venue maintain good food/drink sales (for their own peace of mind), while also supporting working artists by the donations of those who want to give.
[14 Ways Musicians Can Make Money from Live Shows]
6. Be Hospitable
You're probably thinking, "This isn't some bed and breakfast! Be hospitable?". Yes, that's what I said. Most of the musicians (and even some non-musicians) coming to open mic are coming by themselves. If they're not extroverts, the host is probably the only person they'll talk to on their first visit. It's your job to make them feel comfortable, let them know how things work, and give them a reason to come back. You can even introduce them to 2 or 3 people.
Take it from an introvert: I always want to return to an open mic when the host is nice and makes me feel at home. The best open mics are not about the best talent. The best open mics are about great music community. Talent helps too!
7. Be efficient. PLEASE be efficient!!!
Let me say it one more time: BE EFFICIENT. Open mics that take 20 minutes to get through one artist are a waste of my time...and everyone else's. #sooverit
Make sure everyone knows to tune before they get on stage. Make sure they know that they will be cut off after 10 minutes or 2 songs (whichever comes first). Make sure people know who they fall after on the list so they are ready to go when its their turn. 
There's nothing that makes me want to rip out my hair more than an inefficient open mic. You don't have to shove people off stage, but you do want to keep things rolling so the night doesn't stretch on forever and that the majority of people actually get to play for an audience.
8. Be the ring-leader.
Like we said in #6, an open mic takes on the personality of the host. If you're a jerk, attendees will care less. If you're nice, others will be respectful. If you take it seriously, others will also take it seriously. If you don't do your job, the night will be sloppy. Just make it look good. Just care.
And have fun!
Joy Ike is a full-time singer/songwriter based out of Philadelphia, PA. She is also the founder and primary writer for Grassrootsy, one of the most-read music business blogs on the internet. She believes the greatest tragedy in the world is having a talent and keeping it to yourself.
Build your fanbase, promote your gigs, and sell tickets commission-free on your own Bandzoogle website. Sign up free now!