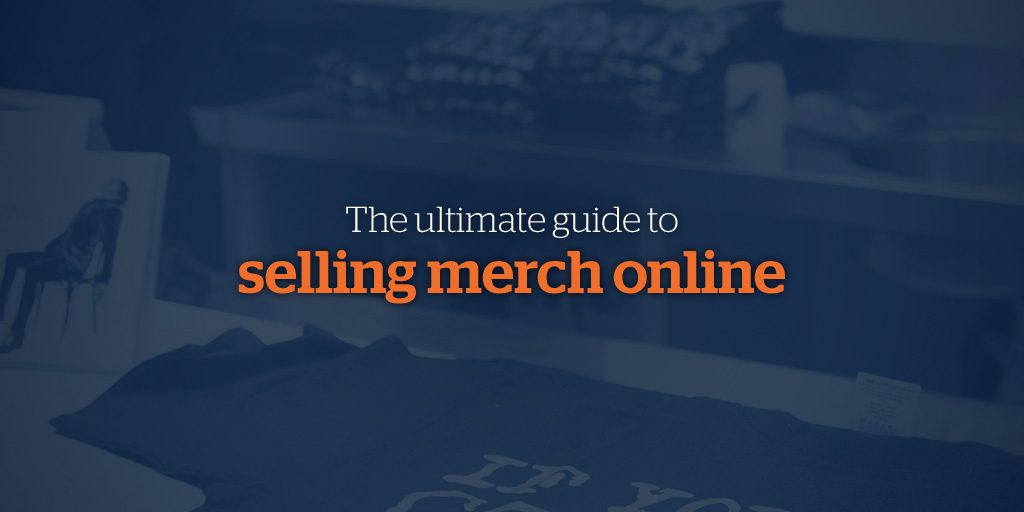 This guest post was written by Jon Ostrow and originally appeared on the Bandzoogle Blog.
Bandzoogle members have now crossed $20 Million in direct-to-fan sales through their websites (commission-free!). This comprehensive guide will show you how to set up an online merch store for your own band, and give you some ideas for the different types of merch you can sell to your fans.
Part 1: Choosing Your Merch
Before you dive into ordering or creating your merch, there are a few steps to consider to ensure that your time and money spent on investing in merch is worth the effort.
Step 1: Ask your fans
There are so many things that you can order with your logo on it, why leave it up to chance? Put out a little survey on your website, in your newsletter, and through social media to get an idea of the kind of merch that your fans would actually enjoy.
Step 2: Research other bands / ask what sells best
Being unique and creative is great, but as a band without an unlimited budget, it doesn't hurt to do a bit of market research and see what other musicians have had success selling.
Step 3: Consider your budget (aka don't break the bank)
Speaking of which, you absolutely need to determine the budget you have to work with before considering what merch you'll be offering. You want to be able to offer merch that your fans are excited by, and ultimately purchase, but it needs to fit your budget.
Step 4: Track your inventory
Buy too much and you're left without cash on hand and a need to store all of the merch that you've purchased. Buy too little, and you'll miss out on great opportunities to monetize. Be sure to keep detailed inventory of all your merch items.
[New: Automatic inventory tracking for your band merch]
Step 5: Think custom-made and think for scale
Merch that can be handmade may be difficult to reproduce, but it can also be offered for a significantly higher price-point. Offering a good balance of custom merch and scalable merch allows you to offer unique merch at price points for fans of different levels of dedication.
Part 2: 21 Creative Band Merch Ideas
Now we'll take a look at some of the different kinds of merch you can offer. These include both physical and digital merch items that are easily scalable, as well as custom merch ideas.
Physical Merch - Scalable
1. Vinyl / cassettes (limited editions): A hot item sought out by die-hard fans and audiophiles alike. Offering limited edition vinyl and/or cassette versions of your albums is a great way to get fans to purchase your album.
2. Wearables: Buttons, patches, sweatbands, shirts, hoodies, hats, etc. These are staple items, so always make sure you have some of these available for your fans.
3. Stickers: Another staple item that you can sell for cheap and still make a good profit from.
4. Baby goods: Not for everyone, but if you know your fans are millennials, it might be a good idea to start offering baby gear with your logo on it.
5. Phone cases: An inexpensive way to keep your band logo constantly in front of your fans. Don't forget to order both iPhone and Android options with a few different sizes for each.
6. Shot glasses / flasks: Need we say more?
Physical Merch - Custom
7. Signed albums: Along with selling your CDs, vinyl, and cassettes online, offer a premium price for signed versions of those items.
8. Signed posters: A die-hard fan collectable item, make sure you always keep any remaining posters from all of your shows, especially if they're silk-screen or hand-painted posters. You'll be surprised how quickly these will get scooped up.
9. Handwritten lyric sheets: Everyone has their own favorite song. Offering handwritten lyrics is an easy way to offer something custom and give your fans a way to become even more attached to the song they hold so dear.
10. Music lessons: Certainly not for everyone, but if you've got a deep well of music theory knowledge, offer to give a select number of people lessons via Google Hangout, Skype, etc. You'd be surprised how many fans are also budding musicians.
[VIDEO] How to sell Physical Merch on Bandzoogle:
Digital Merch - Scalable
11. Sheet music: Why not offer sheet music for your fans that want to learn how to play your songs?
12. Guitar tabs: If your music is particularly guitar-driven, you can also sell guitar tabs for your songs.
13. Lyric books: If you have some design skills, why not throw together nicely formatted eBooks with your lyrics from each album?
14. Poetry books: Do you have more lyrics or poems that aren't being used for songs? Put together a book of poetry for your super-fans. 
15. Companion to album (band commentary about each song): Movie studios have been doing this for years and labels have started to catch on. Why not give your fans the opportunity to dive deeper into your new album by dissecting each song's meaning, inspirations and fun facts?
16. Music lessons (videos): Do you teach your instrument? If you already give lessons in person or over Skype, consider recording some video lessons to sell online.
17. Live concerts: If you have good quality video of some of your live shows, consider putting them up for sale. These can be great for fans that were at those particular shows, or for your fans around the world who aren't able to come see you live.
18. Behind the scenes videos / documentary films: Going into the studio for your next album? All you need is a phone with a decent camera and you can create a behind the scenes series of videos or even a mini documentary film.
Digital Merch - Custom
19. Fan club access: Remember you need to continue to create unique, exclusive content for these fans on a regular basis. Particularly if you're taking part in Patreon or Dreampatron – you need to make that monthly fee worth the investment so ultimately this becomes a custom offering.
20. Voice mail messages: "Believe it or not, George is not home so leave a message at the beep". Who wouldn't love a custom voicemail message from one of their favorite bands?
21. Ringtones: Why not offer to record custom ringtones for your fans? It wouldn't be very time consuming, and you'll give your fans something unique that will remind them of your music every time their phone rings!
[VIDEO] How to sell Digital Merch on Bandzoogle:
Part 3: Ordering Your Merch
Once you've set a budget and chosen which merch items you'll be offering, it's time to order your merch.
There are many companies out there that specialize in different merch items. You'll want to do some research, and ask other bands in your local scene where they ordered their merch from.
A few places to start:
Jakprints: Great one stop shop for posters, stickers, shirts, sweaters, headwear, bags and more.
Sticker Mule: Name says it all. They just do stickers and do them well.
Button Frog: Sister company of Sticker Mule for buttons.
Zazzle, Cafe Press: With these services, you can upload artwork onto almost any merch item. You can either order a limited quantity to re-sell through your own store, or setup a store through those sites and they'll create your merch items as the orders come in and ship them to your fans.
5 tips to save money when ordering merch
Here are a few ways you can save money when ordering your merch:
1. Be aware of price breaks
For almost every merch item, there will be price breaks at certain quantities. This doesn't mean you should order the highest quantity to get the biggest price break! For example, if you wanted to order 100 shirts, but there's a price break at 120, then it might make sense to order those extra 20 shirts.  
2. Check design specs carefully
Make sure that the files you submit meet the supplier's specifications. Any last-minute changes will cost you.
3. Limit designs
Each design likely requires a new setup at the supplier, which usually results in extra fees. Limit your designs to avoid these additional costs.
4. Limit colors
Same goes for colors. When ordering apparel, each additional color will cost you. Try to limit the amount of colors you use in the design to reduce the cost.
5. Don't order last minute
Don't get caught having to place a rush order! You'll likely pay through the roof in shipping costs, which will negatively impact your profit margin.
Part 4: Setting Up Your Online Merch Store
By selling direct to your fans, you not only get most of the money (100% using the Bandzoogle Store Feature), you also get their email addresses. That way, you can keep in touch with those fans over the long term to let them know about upcoming shows, new music, and new merch.
[Why Email Newsletters Are Still a Vital Marketing Tool for Musicians]
Step 1: Organize
First and foremost, your online store needs to be organized. Keep the page simple and clean to navigate. If it's too messy, fans might just leave the page without buying anything.
If you have a lot of merch items, consider creating separate pages for each type of merch, and linking to them from the main Store page. This is what the band A Primitive Evolution did on their website.
Step 2: Have images for every item
For each item in your Store, you should have an image. Album covers are obvious, but even for stickers and buttons, you should include an image of what they look like.
For t-shirts, you can feature the front and back of the shirts, as well as different colors.
Step 3: Describe each item
You should also add context for each merch item in your store. What's the story behind the item? Who designed it? Briefly explain the merch item and why you think your fans will enjoy it.
For example, A Primitive Evolution have a Handmade Voodoo Doll Plushie for sale with this great description:
"Printed, sewed and stuffed by us for you! Cast a curse on an enemy or a crappy band perhaps... or just cuddle up with this little guy on those lonely nights."
Step 4: Offer clear way to contact you
When people are shopping online, they want to know that they can easily contact the seller if they have any questions. On your Store page you can include a contact form specific to sales, or a call-to-action with a link to your Contact section.
Now go sell some merch!
Getting your merchandise plans in order can take a bit of time, but it's well worth the investment. Use these ideas to get your merch store set up today, there's no excuse for missing out on opportunities to make alternative revenue from your fans.
For more revenue generating ideas, check out 18 Ways Musicians Can Make Money

Jon Ostrow is the Director of Sales at Bandsintown, Founder of MicControl, lover of all things music, a raging Phish head, and a coffee addict.
Making money as a musician is tough. That's why you keep 100% of your hard-earned revenues when you sell music, merch & tickets through your Bandzoogle website. Sign up free now!