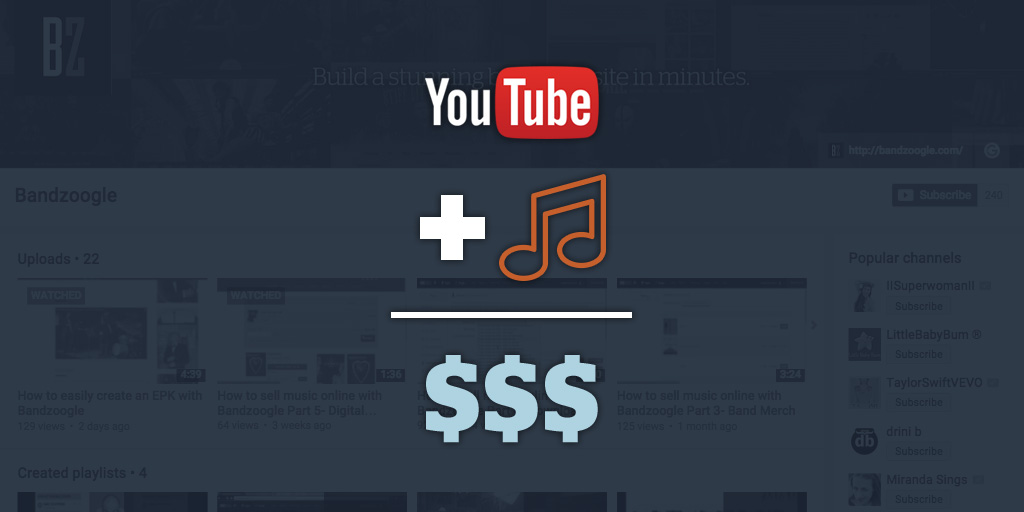 This guest post was written by Jon Ostrow and originally appeared on the Bandzoogle Blog.
YouTube is undoubtedly one of the most important tools for musicians to market and engage with fans online. But how does YouTube make you money?
Rather than simply allowing YouTube to run ads on your music videos and hoping for the best, you should focus on creating a sales funnel strategy.
Sales Funnel
This funnel can be broken down into three parts:
Discovery

Monetization

Retention
This will effectively create a full cycle. Focusing on all 3 components will help you optimize your YouTube channel for revenue opportunities, drive traffic to your channel, and ensure that your fans stick around to continue to make you money over the long-term.
So let's take a look at several easy ways to set up each part of your YouTube sales funnel:
Discovery
Before you focus on trying to make money from your channel, you'll want to take a few things into consideration to ensure you're able to drive as much traffic as possible:
Enable channel recommendations
This is a no-brainer. By turning this setting on here, you're allowing YouTube to suggest your channel to new viewers.
Every video should be tagged
Just like on Twitter or Instagram, YouTube tags act as keywords that are then indexed and searchable by others. Include tags like the genre and location, and even find opportunities to take advantage of existing tag trends that will help your videos show up in a relevant search.
Word to the wise though, don't go overboard here – generic tags such as 'Music' or 'new song' won't do much if anything for your visibility, so keep your keywords dialed in and to the point.
Create effective video titles
Again, you want to make sure that your videos are easy to find as a relevant search result. Your title needs to be catchy and appealing, but also to the point. If you get too clever with your title, you may end up leaving out a relevant keyword that could be the key to your video being found.
Tip: If you publish cover videos, include the artist name and the word 'cover' in the title in addition to the song name and your own name. This will help it be found easier!
Including the link to your YouTube channel everywhere
Make it as easy as possible for people to get back to your YouTube channel by including the link in your bio section of all of your social networking accounts, in your email signature, and even on your download cards, CDs, etc.
For your website, be sure to embed videos directly onto a Videos page, then provide a link to your channel for fans to find you there.
[The Magic 8: Essential Menu Options for Your Band Website]
Monetization
Now it's time to consider ways to maximize the traffic you're bringing to your YouTube channel so that each visitor does their part to contribute to your sales:
Allow ads to be displayed on your videos
This one seems obvious, but it's important to note that you need to opt-in to video monetization on YouTube. To do so, YouTube offers an easy step by step walkthrough to make sure you're all set up.
Create playlists to increase # of video views per visitor
So you've driven a fan, or a new visitor to your channel and they've watched one of your videos. Great! Now they can either leave your channel, or they can continue to watch more videos. Increasing the number of video views per visitor is key when it comes to generating any significant amount of money from advertising.
Use analytics to better understand your audience
YouTube recently released a new tool for musicians called YouTube for Artists. This allows you to see which videos are connecting with your fans, and which ones are not so that you can continue to tailor your content strategy to meet the needs of your fan base. Take advantage of this and don't waste time creating videos that fall flat.
Retention
At this point, you've set up your page to increase traffic and optimized your channel to make as much money from those visits and views as possible.  But why only rely on search traffic? A key component in any effective sales funnel is retaining existing fans, as it will always be easier to keep (and make more money from) than it is to find new fans. Here are some things you can do to ensure you retain the fans that are now checking out your YouTube Channel:
Ask fans to subscribe to your Channel
At the end of every video you should have some sort of call to action asking fans to subscribe to your YouTube Channel. You can also include this call to action in the description of each video as well.  This will ensure that your fans receive an update every time you upload a new video!
Use Annotations
YouTube offers 'annotations' as an interactive button that can be superimposed over your video to allow you to do things like link to your website or iTunes.  Should you be focused on touring, you can now even include an annotation that allows fans to follow you on platforms such as Bandsintown or Songkick (full disclosure, I work for Bandsintown and we've received amazing feedback from our artist platform regarding the effectiveness of this new YouTube feature).
Think beyond the confines of YouTube
While YouTube offers you quite a few ways to retain fans and make money directly on the platform, there are 3rd party platforms that can be used to leverage your video content, and even simply your music on YouTube to get you paid:
Patreon – Through this platform, your fans will opt-in to pay a recurring subscription fee for each new piece of content you release. By exclusively releasing (or at least debuting) your YouTube videos on this platform, you can reward the fans most willing to spend money on you, and greatly increase the opportunity to make money from each video you create.

Audiam – Believe it or not, you are owed a royalty for every YouTube view your music generates. Audiam helps independent musicians like you get the royalties owed to you from YouTube. If you have your music distributed through aggregators like TuneCore and CDBaby, they also offer services to get paid on royalties from music streams on YouTube.   
We hope the ideas above will help you to set up a basic, but effective sales funnel for your YouTube channel!

Jon Ostrow is the Director of Sales at Bandsintown, Founder of MicControl, lover of all things music, a raging Phish head, and a coffee addict.
Start building your fanbase! Bandzoogle websites have a built-in mailing list, social media integrations, and all the tools you need to step it up. Sign up free now!