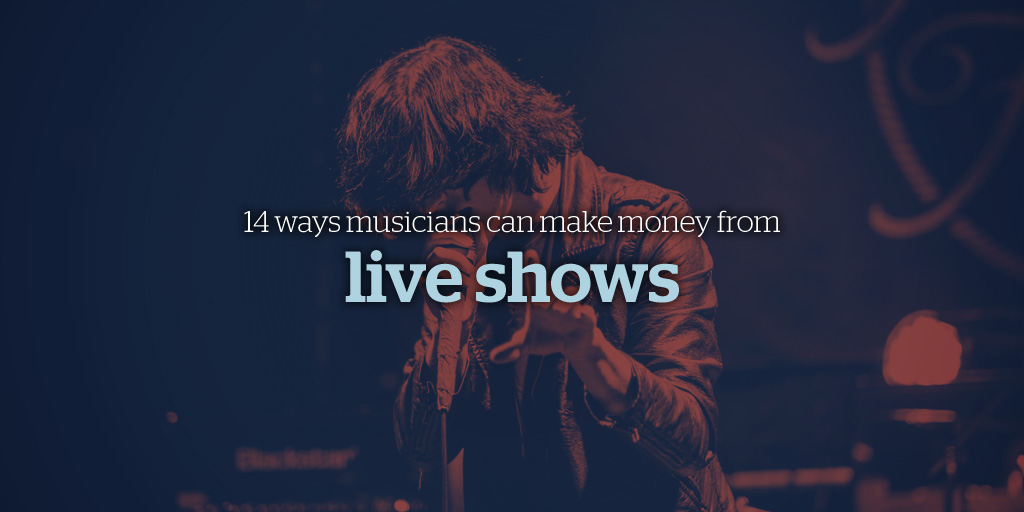 This post was written by Joy Ike ​and originally appeared on the Bandzoogle Blog.
The key for musicians today is to diversify their revenue streams. No musician makes their income strictly from one method anymore. For the most part, we each have our hands in several different pots.
You know the adage, "Don't put all your eggs in one basket". Musicians just can't afford to do that anymore. There are just so many baskets and each one has its benefits. Some baskets will be more important to you, and some will be more important during specific times in your career.
Think of the below list as a bunch of baskets related to making money from your live performance, and determine which ones you want to use. Some of these will be no-brainers, but they're still on the list as a reminder.
1. Ticket Sales
Starting with what is no doubt the most obvious one. Chances are that most of the revenue you generate from live shows will still come from people paying to see your performance. This can be from tickets sold in advance, paying the cover at the door, suggested donations, or even passing-the-hat.
[Sell tickets for shows commission-free directly through your website]
2. Merch 
Not everyone at your show will buy merch, but some definitely will. Take your merch table seriously. Put it in the line of vision and make it look appealing. Set up a sign with a price list and image of your band. Take your merch more seriously and others will too.
3. Cover Gigs
Some musicians really hate this type of show. I get it: you're basically wallpaper. No one sees you. But they hear you and you get a few hundred bucks (hopefully) for a few hours of music. Cover gigs are such a great way to subsidize your other shows. If you're going to play cover gigs, think of them as shows you have to do in order to play the shows you want to.
4. Private Events
Similar to cover gigs, private events tend to be well-paying. Subscribing to a service like GigSalad can bring in some great revenue from private event planners, corporations, couples who need wedding music, and so much more.
5. House concerts 
These are the real deal. If you need a type of show that requires very little promo but gives a whole lot in return, you should be doing house concerts. Cultivate relationships with fans who already come to your shows. Eventually some will want to host you in their home and share you with their friends. For tips on getting house concerts, check out 5 Ways to Generate House Concert Leads
6. Busking
Some people hate the word busk. But if you're strategic, busking can be your best friend and you can make some decent money in an afternoon. Busk in high traffic - outside a major sports event, outside the entrance of a major festival, in front of a grocery store, or a movie theater. Try busking before shows while you're on tour to make a bit of extra cash and promote your show that night.
7. The College Circuit 
NACA (National Association for Campus Activities) is a big investment, but if your music's college appropriate, it's totally worth it. Student activity boards reserve a significant amount of funding for midday lunchtime music, and late night coffeehouse programming. One gig alone can cover expenses for an entire tour.
For help with booking College gigs, check out Indie on the Move's College & University Show Booking Directory
8. Festivals
Not only do festivals tend to pay quite well, they're king when it comes to high-traffic gigs that bring in major merchandise sales and follow-up gigs.
[How to get booked at music festivals]
9. Online Concerts 
Services like Stageit and Concert Window allow you to broadcast live shows online. People love these intimate, low-key concerts, particularly fans who aren't close enough to make it to one of your regular live shows. You can make really good money on tips and ticket sales, especially when your die-hard fans can actually chat with you between songs.
10. Live Performance Royalties
Performance Rights Organizations allow you to earn royalties from your live shows. If you're someone who plays a lot of gigs, use this to your advantage. Every extra dollar counts!
11. Sponsorships
These can be difficult to secure, but if you use a product… like really use a product, reach out to the company and ask them about sponsorship. Artists do this for gear, drum sticks, capos, and even clothing. For gigs at bars/clubs, you can also try to get a sponsorship from a beer or energy drink company which might help you save on costs at the venue or get a better cut of the door/bar revenues.
[Musicians- How To Get Sponsored]
12. YouTube Royalties
You can earn royalties whenever your videos are played on YouTube. So be sure to upload all of your good quality live videos to your YouTube Channel then monetize them.
[How to make money from your music on YouTube]
13. Live Albums
It's easier than ever to record a live album, as many venues are already equipped to help you record a good quality live album. Why not record a live album a few months after your latest studio album is out, and add a few exclusive new songs to help entice your fans to buy it?
14. Online stores
If you're playing live, be sure to also stock your online store with all of your albums and other merch. Even if fans don't buy from you the night of your show, they might go to your website in the following days to shop. Some people might also go straight to iTunes or Spotify to check out your catalogue of music, so make sure that all of your music is up on popular retailers and streaming music services as well.
[6 Tips for Setting up Your Online Store]
Bonus tip: Spend Money 
Couldn't help but end on this. It's true what they say: it takes money to make money. Spend a few hundred dollars to print T-shirts for your merch table, get a membership to GigSalad, join NACA, ship posters to venues you are playing at, etc. Put a few dollars into everything you do so that it looks good. It will pay off.
You might also enjoy: 18 Ways Musicians Can Make Money
Joy Ike is a full-time singer/songwriter based out of Philadelphia, PA. She is also the founder and primary writer for Grassrootsy, one of the most-read music business blogs on the internet. She believes the greatest tragedy in the world is having a talent and keeping it to yourself.