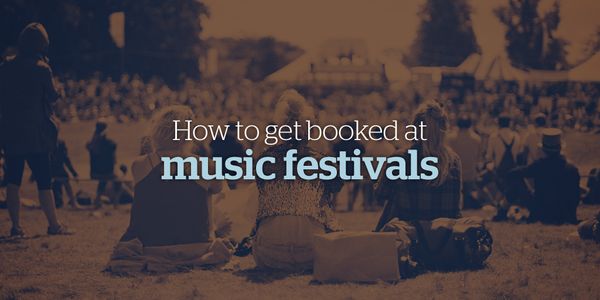 This post originally appeared on the Bandzoogle Blog.
by Lisa Occhino 
Booking a music festival gig is one of the most effective ways to grow your fanbase and grab the attention of industry tastemakers. Earning a coveted slot on a festival lineup is a key indicator that you're not only an extremely talented band, but also that you're serious about putting in the work to take your music career to the next level. 
However, there's a lot of competition for festival slots that are open to independent bands, especially for the prominent résumé-builders like SXSW and Bonnaroo. You need to be realistic about the kind of opportunities that are attainable for your career level, because otherwise you're going to waste a lot of time and money applying to festivals that you're not ready for just yet. 
If you've been regularly selling out your local and regional live shows, you feel confident enough in your stage presence to command a large crowd, and your online presence is up to par (i.e., you have a professional website and active social media profiles with a growing, engaged following), then you're probably ready to start applying to music festivals. 
Here's everything you need to know about finding the best festivals for your band, putting together a killer application, and tactfully following up with promoters. 
1. Target the right festivals for your music 
"don't make the common mistake of overlooking the smaller festivals and local fairs" 
It may seem like blindly applying to every festival that's accepting submissions will increase your chances of getting booked, but smart bands know that being selective is a much better approach. 
Start your research several months in advance, and target festivals that are likely to book your genre of music. Find out where bands similar to yours have performed, and search festival directories like Indie on the Move, FestivalNet, JamBase, Music Festival Wizard, and Sonicbids. 
When you're first starting out, don't make the common mistake of overlooking the smaller festivals and local fairs. They may not have the name recognition of Coachella, but they're invaluable for gaining experience and building up your gig résumé. With a few small fests under your belt, you'll be in a much stronger position to earn slots at the bigger ones down the road. 
Once you find a few festivals that seem promising, check out which headliners have been announced, and do some digging on indie acts that have been selected in the last couple of years. Are they based in the same area as the festival with a solid local draw? Did they tour regionally or nationally prior to playing the festival? How strong is their social media presence? Have they gotten press mentions? Are they represented by an indie or major label, or are they completely DIY? 
Try to identify any trends among previously selected bands for your target festivals, and see how your band stacks up in comparison to help determine if it makes sense to submit an application. 
Use a spreadsheet or artist management software to keep your research organized and track progress on your target festival submissions. Feel free to customize it to your needs, but we'd recommend including at least the following information for each festival you're interested in: 
Festival name 
Festival date 
Festival location 
Festival website 
Submission URL/contact info 
Submission deadline 
Submission fee (note that some festivals increase the fee as the deadline approaches) 
Accepted/rejected notification date 
Submitted [yes/no] 
Accepted [yes/no] 
Additional notes 
Remember to add all of the important deadlines to your calendar and set reminders so that you don't miss out on any opportunities! 
2. Prepare your festival application 
"No matter how good your music is, festival bookers won't take you seriously if you don't present your band in a professional way" 
Now that you have a solid list of target festivals, you'll want to make sure your application stands out. Having great music is a given, but promoters also pay very close attention to the following elements to determine which acts are ready for a festival stage. 
A great bio 
A winning bio for a festival application is concise, attention-grabbing, and highlights what makes the band impressive and unique. A little bit of background information is fine, but you don't need to share your life story here – try to keep it relevant and engaging. Check out these tips for writing an effective musician bio. 
Professional photos 
There's no way around it – you need high-quality band photos. No matter how good your music is, festival bookers won't take you seriously if you don't present your band in a professional way. Since you'll also be using these photos for your website, digital press kit, and social media profiles, it's well worth the investment! 
In addition to standard press photos, it's a great idea to include a few live shots that convey your onstage energy and look. It'll help promoters envision you on their festival stage, while also showcasing your performance experience. 
High-quality live video 
What better way to prove to a festival that you can put on a mind-blowing show than by including a live performance video in your application? Use a clip that captures your stage presence, personality, and audience interaction. Make sure the video and audio are both high quality, or it'll distract from your performance and come off as amateurish. 
Even if it's footage from a small venue in your hometown, they just want to see that you're able to command a crowd and that you can really nail your songs live, because that's what will set you apart and translate to a successful festival performance. 
A great digital press kit 
Once you have your bio, photos, and videos together, you'll want to package everything in the form of a digital press kit (also known as an electronic press kit, or EPK). A professional-looking, well-maintained EPK signals to festival promoters that you have your act together and that you're serious about your music career. 
Not sure how to create one? Make sure you have these eight things ready to go, then use Bandzoogle's preset EPK page template to easily add an EPK to your band website. From there, all you need to do is send the link to promoters, and they'll have all the information they need organized on one page. 
3. Submit and follow up 
"Familiarize yourself with each target festival's specifications in advance so that you can budget your time and resources accordingly" 
Now that you have your basic application materials and digital press kit together, refer back to the spreadsheet you created to find out what each festival's requirements are for the submission process. 
Do you need to apply to the festival directly via a custom application form on their website? Do you have to submit your EPK through a platform like Sonicbids? Do they require a submission fee or supplementary materials? Familiarize yourself with each target festival's specifications in advance so that you can budget your time and resources accordingly, and avoid any delays when the deadline comes around. 
After you submit your application, the best thing you can do is sit back and wait to find out if you were selected. Do not pester them with emails or calls asking if you've been booked, especially if they specified in the submission process to not contact them about it – it's a sure way to get blacklisted! 
The one exception is if something significant happens in your career after you've submitted the festival application that could realistically affect their decision. If you just booked another major festival gig, got a high-profile review or interview, secured an opening slot for a well-known artist, or signed a record deal, it's a good idea to send a follow-up email to the festival letting them know. 
Don't get discouraged if you don't get booked at a music festival after submitting your first few applications – these kinds of gigs are highly sought after and are very competitive. Keep playing live shows regularly to improve your chops and stage presence, and focus on developing relationships with local promoters, talent buyers, and fellow musicians. The music industry is small, so if you consistently put yourself out there as a professional act with a great live show and a growing fanbase, word will get around, and you'll have more pull when you apply to festivals. 
Lisa Occhino is the founder of SongwriterLink, a free songwriting collaboration website that matches you up with exactly the kind of co-writers you're looking for. She's also a pianist, award-winning songwriter, and graduate of Berklee College of Music.